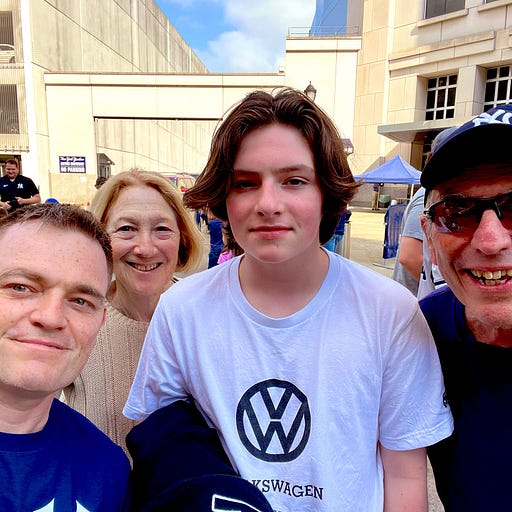 Jun 14
Newsletter #79: Send Me Your Questions!
Seeking any and all questions for this week's class on MISTAKES IN COMICS
Hey guys, it's Scott.
It's Tuesday the 14th and it's a really big week over here for Best Jackett! First, we have Undiscovered Country: Destiny Man #1. It's an Undiscovered Country special that gives the whole secret origin of our big bad guy and fan favorite, The Destiny Man. It's a bottle issue, so if you've not been reading the series, you can pick it up and get a sense of what we're all about with this crazy, strange America we're creating. Or if you've been reading it for a while, this is a huge payoff issue.
Then, next week, a week from Wednesday, we have Nocterra #11, the big finale of our second arc, Pedal to the Metal. It's one of my favorite issues that we've done. It's got a crazy couple killer twists, and it sets up our third arc, which is going to go even bigger, so we can't wait for you to see it. That's next week.
Also, this Friday, I can't believe it's so soon, I'm going to be at Summer Con in Washington State. I'm going to be there Friday and Saturday and for a single signing very early on Sunday.
Paid subscribers, you guys get a special signing both days on there, Friday and Saturday, where you guys get priority. So again, if you're not signed up to be paid subscriber to Best Jacket, please do it now. All the benefits are there already but even more coming over the summer.
Also, after that I am taking a 10 day vacation with my family in Hawaii, so I can't wait. It'll be good, it's much needed. And for those of you asking, I took my 10 year old and his friends to a baseball game to the Yankees/cubs game, the Cubbies, on Sunday.
And crazily, it was the same day that we had already bought tickets for the Governor's Ball for my 15 year old with his friends, our neighbors, and our neighbor's kid. We're all good friends. And I warned my 10 year old, "if we go to this baseball game, I gotta leave from it and go straight to this concert. Is that okay?" He still wanted to do it, so I had like a doubleheader of dad craziness. It was also all supposed to be rained out, which caused a whole other headache where everybody wanted to cancel and I had to be like, "please just don't cancel, give it a shot. Let's see if it works. I bought all tickets." So we went and the Yankees wound up crashing the Cubs 18 to 4. It was huge fun for the kids, everybody got spoiled rotten.
And then we went to this concert, the governor's ball. And it was really good. It was like four stages all around City Field in the parking lot, and my 15 year old and his good friend had a blast, so did our neighbor. And we saw everybody from Clairo and Glass Animals to Playboi Carti and J. Cole, who was my favorite there. But it was really interesting too, because it's a different kind of concert than I've ever been to where they're at the four stages, or the four corners of the parking lot, with City Field unoccupied in the center. So there's all this dead space where you can make the concert whatever you wanted. Like if you wanted to get into the mix and get up close, you could, if you wanted to hang back and just relax, you could, and it felt very modern. It felt very much like the way we consume things now is a super subjective experience at a concert rather than being like thrown in and immersed in a whole constructed design that the artist wants to make for you, which is my old experience at concerts. So it was interesting. I mean, there were a couple of stressful moments with the kids, but overall it was it was a great time and I am broken and tired.
But the biggest thing with this post is that tomorrow night at 9:15pm ET, we're going to be doing our class. This is our 11th or 12th class, we've got a lot archives for paid subscribers, but this one is one that you guys have been asking for for a while. It's essentially our biggest mistakes. It's how not to succeed in comics questions. So what I want you to do is post on Twitter or whatever, but mostly here in the comments. What is it that you want to see us talk about? I'm going to invite a friend or two on and we're going to talk about the biggest mistakes we've made when it comes to different neighborhoods in comics like this. Working with artists, what's the biggest mistake?Editors, what was the biggest mistake? Planning for crossovers, what was the biggest mistake? Cons, etc. All of the stuff that we want you guys to be aware of, things that we didn't understand about etiquette. We didn't understand about overstepping with your boss in terms of pushing too hard, we didn't understand about collaboration. Learn from our mistakes. So it should be fun, some war stories told either from 4th World Comics or if they can't do it then from the studio or Red Shirt. But I hope you'll join us!
Again, if you pay now, if you're not a paid subscriber and you sign up, you're gonna get all the classes we've done already, and this one's live and then it'll be archived the next day if you can't make it (both in video and audio). And there'll be a lot of interaction, and then the next class in July, in between this and San Diego, we want to do something that's craft-based, like dialogue or endings. I'll do a poll and let you guys pick, but we'll get back to reading comics together. And then I want to open it up to your stories. So that's gonna be a big deal in August and September. So it should be a lot of fun. Anyway, hope you guys are good and thanks again!
S
P.S. Some students from my Comic Writing 101 Substack have just launched their Kickstarter campaign for an anthology comic and they need your support! They're even offering some editions that I've signed, so pick those up while they're still available!!