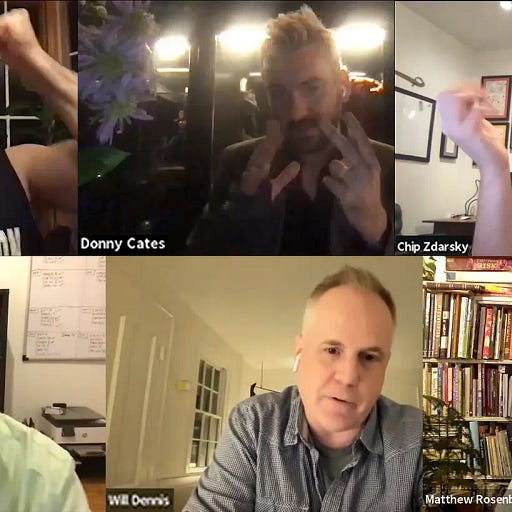 Aug 12 • 15M
Newsletter #89: We're Giving You More Stuff!
More about Our Best Jackett Year Two PLUS details about my time in Ireland!
Anything and everything BJP, from new projects to exclusive deals and merchandise, variants, classes, ALL of it
Hey guys, it's Scott.
I am back from Ireland and I had such a good time over there. I'll tell you about it in a minute, but first allow me to shill, please, because I am really genuinely excited and thrilled and over the moon about what we're planning for our second year at Best Jackett. So you guys are clear, when we signed up for Substack to do Best Jackett, we didn't want to do comics, we wanted to do the class. And I wanted to make it a portal for you guys to be able to connect with me, to connect with each other. I really wanted a deeper and more comprehensive connection with fans and people who were aspiring creators. And Substack essentially gave us a grant to set everything up. And so for the first year up to now, the grant is really what we were making money off of, and your subscriptions went to paying that grant back. Now, at the end of the first year, the algorithm flips and essentially, the subscriptions are what we're subsidizing the whole site based off of. So now more than ever, it's you and me. It's you guys and us, me and Tyler and Will and everybody at Best Jackett, building this thing together.
The first year proved to me not only that this could be successful, but that it would exceed our expectations. But on top of that, that it's deeply meaningful to me. I love the class that we're teaching. I thought maybe I'd do it for a year and then stop. But instead it's become a highlight of the month for me, and I look forward to it intensely, as Tyler will attest. So now is the time. The first year is done, a lot of you that had annual memberships are probably going to get notices about re-upping or not. What we are going to do is Comic Writing 102 instead of Comic Writing 101.
So we're announcing this, we're starting in September. We're going to do topics the way we've been doing them—we're doing pacing, metaphor, serialization, I'm going to do a special one that's all about the business side of comics, about how you get something up and running. But one of the cool things is we're also going to be starting to look at your writing as an example of text that has strengths and weaknesses given a certain topic that we can really dive into. So we'll be looking at student work which, to me, will be exponentially more educational than looking at things that are just great examples of different techniques, different craft elements. We're looking at your stuff and saying, "Look how good this aspect of this is, but look at how this if you tweak this, this and this will bring it to a whole other level." That's where I really cut my teeth was in workshop.
I started taking workshops when I was about 18/19 years old. I went away for the summers to different writing camps because I was that cool, and I fell in love with it. Meeting other writers, getting to see their work, learn how a teacher and the rest of the class would help to improve that work just gave me a whole new language and skill set for improving my own work. And so I'm absolutely 100% confident that the second year of the class, Comic Writing 102 will be even better than the first, and I'm more committed to making sure that there's more material, more interaction, more questions from you guys, all of it.
So this is us. This is you guys and us now. No more safety net from Substack. So I really hope you'll give it a chance. We have a big discounted rate for the annual subscription, it's only like $75, I think, for the whole year.
On top of the class, you get the first year of the class. So if you are a free subscriber listening to this and you're like, "oh, I missed out on Comic Writing 101…" It's all there for you. There's a link and you can watch all the videos.
There are interviews and classes with special guests from Greg Capullo to James Tynion IV to Donny Cates to Chip Zdarsky, Matt Rosenberg, Will Dennis (my extraordinary editor). I'm so proud of it.
So you get all that for free and you get the class live as we go forward, which will also be archived. So on top of that, you get a chance to send me your books twice a year to get signed. On top of that, you get a FastPass system at every single convention I'm all year long, and I plan on doing a bunch this year. And you're going to get access before most people to our store which we're busy setting up now. We'll have merchandise that's exclusive for Best Jackets subscribers.
Founder's Tier members, just so you know as an aside, you now have your window, starting yesterday, to send your TEN books, any books you want, to Comic Sketch Art for me to sign. Hopefully I'll get you some surprise signatures on some of them, too. And you also will be getting your first package of exclusive books and covers with some extra free things fun things thrown in. They're being shipped out September 2nd, so everything is on its way to you.
If you're interested in doing a Founder's Tier Black Jackett membership, which is the highest level for us, and gives you a dinner in New York City with me at NYCC or one at San Diego and all kinds of exclusive variants and exclusive number one covers and stuff like that, we're going to open that window for a very short period in September once everybody gets their stuff and things are fulfilled for the first wave of books for Founder's Tier members. We don't want to open it up again until everybody gets things they were promised and feels really happy (as they seem to be already). But I'm very excited to make sure that everyone feels they're getting more than their money's worth.
So please, if you are a free subscriber, you can sign up monthly for $7, you don't like paying every month, you can sign up now annually for a big discount and you get all this cool shit all year long. And it means a lot to me, because this is how we're now going to be paying for Tyler and all the work we put in and all of this stuff (don't worry, I would never let Tyler go and I will make sure he's always happy because he's amazing, I'm just saying, like, now it's us). So if you ever have considered taking a comic class and you want to learn from me, you want access to me, you want your stuff signed by me, you want to get to meet me at cons without the hassle of the line, all of it, you want the livestreams with me—annual subscribers also get four live streams that nobody else gets that's essentially conversations where I take your questions and all that. I'm actually going to do the third one next week on Monday night, 8/15.
We've also got class, if you're interested, on Wednesday of next week (8/17). We're gonna be doing Endings. It's probably our last one before we switch over to Comic Writing 102 In September, so now is the time, between now and September, to sign up, re up, give it a shot.
Okay, so away from the commercial to Ireland! I can't tell you how wonderful it is to sometimes get away from your comfort zone to give you perspective on both your work and your life.
For me, I have this belief that America is so young that so much of what we encounter all day every day is built to reinforce a sense of self importance. Like, I drive around where I live and the oldest structures, the oldest places in my town are a hundred years old. There's captain's houses that are maybe two hundred years old, which is amazing, but that's rare around here. Most of the stuff I see are strip malls, and you drive a few miles out and it's just a mall. And all that stuff, to me, what it does is it psychologically reinforces a sense of self importance, a sense of egotism, even if you don't think of it that way, that magnifies the gravity of your own problems. So, like, I have shit that I'm worried about that day, everything around me is, like, my generation young or whatever, and it feels like it's a set you're walking through that's all about your life.
In America, there are certainly places that I think are humbling for their historical value, from post-colonial and pre-colonial times all through. And there's history that's just humbling, horrifying, inspiring, all of it. But there's a different level of history, to some degree, when you go outside the country and you're experiencing ruins and places that are a thousand years old, that kind of feeling that you're experiencing the remnants of cultures that existed two thousand years ago and that kind of thing. When you're walking on streets, even the physical architecture is old—three, four, or five hundred years old. Again, none of this is to belittle American history or to make you feel like it's unimportant. American history is my passion and it's endlessly inspiring and infuriating all at once.
But I'm just saying, getting outside of these things, it's humbling and it makes you feel small sometimes when you get outside, even just seeing another culture. So going to Ireland, my wife, she has roots in Ireland, and our son, Jack, who's fifteen, is really interested in going overseas. He's a history buff, he was in the National History Bee a couple times. And he's got the travel bug ever since I took him to Colorado and a couple places here that were really outside his comfort zone, just the two of us. And so he had a blast. He wanted to see Trinity College and the Book of Kells, which is this ancient text, and he's thinking about possibly going to school overseas, which would be really emotionally hard for us. But either way, the trip was kind of a way to give him a first sense of what it's like. I rented a car, drove on the wrong side of the road.
We had a blast at Dublin Comic Con. One thing also that's interesting is that it gives you a different sense of fandom.
I love American fans, like, you see me all day every day interacting with American fans. I love the culture and the passion, I love how engaged they are all the time, I love the debates, all of it. I'm all about American cons BUT European cons have a different feel. A lot of the time they're more about the art than the writers, which is fun. They'll set up museum exhibits or special exhibits for certain artists coming and really, really spotlight their work. And they also want you to explore their town. There's a lot of time built in, which there isn't often in American cons when you're invited, to go explore, and there'll be people there who work at the con that'll sort of either take you around or encourage you to go to certain places to drive around, to see landmarks, to see monuments. So it's about going there and experiencing the whole place.
And the fandom is interesting, because people come up to you and I would say, by a factor of, like, five at least, want you to personalize things, which is really heartening. People come up and they want things personalized to them, which means they're not going to resell them. Again, I don't begrudge anybody reselling shit here. I have no hard feelings about that at all. But that said, of course it's endearing when someone says "this is special to me and I'm never giving it away," like my McFarlane page that I have on my wall, like, I'll never sell it because it was a special thing for me.
So anyway, there was a lot of that. I was only there one day, the lines were great, they were out the door, it was fun. I was busy all day, and I got to catch up with an old friend, Brian Azzarello.
And that's the other thing, being outside of the zone you were in, not to get on the couch, but it was fascinating to talk to Brian outside the matrix of DC. Obviously, he was there a generation before me, and if you haven't read his work—100 Bullets, what he was able to do with Wonder Woman with Cliff Chiang, all kinds of stuff and his partnership with Eduardo Risso, just unbelievable work. But he was also one of the people that was a real compass for me in terms of artistic integrity when the New 52 started. There was a lot, and I'm going to get into this in the paid posts in a second, there's going to be another post for people that are paid subscribers, to be able to read the second half of this and listen to the second half that's about craft.
But with the New 52, I was totally overwhelmed, as I've said many times to you guys, and Brian was somebody who really helped me focus on Detective. I remember him pulling me aside at the very first DC summit I was ever at, where there were a lot of funny things happening where some people were really determined to make everybody do their version of the characters, some people were brand new and terrified and eager to do anything anyone wanted, some people were there to pick a fight with bosses, it was all kinds of personality wars. And I was just scared, and Brian came up to me and he asked me what I was doing on Detective. And I told him what I had planned and he was like, "you stick to that, and make sure you get enough issues." It was amazing, so I idolized him.
And he always checked in with me over the years, and he also was somebody who spoke a lot of truth to power when some people there in higher positions, both as bosses and writers, sometimes would really try and be overly controlling with things. Brian was often the person that stood up and said, "give people room to breathe." Anyway, being with him outside of that matrix where he had been protective of me at DC, we had had moments when we had really supported each other stuff. We had been supportive and then critical at the same time to each other, like he wasn't necessarily a big fan of what we were doing with Metal, there were things that they were doing with Flashpoint that I loved, but also, y'know… But we were always friends, we always talked about it really happily and with respect and that, never angry, you're never critical in an unconstructive way. But again, Brian is about honesty. And meeting them outside that matrix and just catching up and being like, God, we made it through this shit to this side of it." It was just so nice.
It was like meeting somebody from a neighborhood that you used to live in, or you grew up in, almost. And you knew all the same landmarks and all the same people, and everybody had moved on and the neighborhood had changed. But it existed between the two of you as a memory that you share, and you'll both share forever. So it was great sitting with him and catching up and being able to talk war stories and that. And going around Ireland was fantastic. and again, I can't recommend enough getting outside your comfort zone. Sometimes I think you can do it in small ways.
Another thing in the US that I think serves a lot of the same purpose is going to see the majestic landscapes, going to see places that are less populated, that have this incredible grandeur, that're millions and millions of years old. We have some of the best geological fixtures in the world. Go, like, get outside your comfort zone in any way you can. Even if it just means going to the town next door that you've never been to. Go work somewhere you haven't worked before. The other way to do it, getting outside your comfort zone if you can't physically go someplace, honestly, one thing you might want to do is just read outside your comfort zone. For me, I read articles sometimes where it's, like, science or astronomy or whatever. Interests, but not things that I would just pick up more regularly like comics. And almost every time it gives me an idea for a story. I came back from Ireland with two more ideas.
So getting outside your zone as the main topic, meeting people that you care about outside your zone, meeting new people, young fans, new fans, old fans, all of it outside your zone where they interact with your work and you differently, is a special thing. It reinvigorates you, and it gives you perspective on things, and it makes you feel like you're coming back energized with a healthier view of yourself and comics and all of it. And now I'm gonna switch over. If you want to sign up and you're not paid, sign up and you'll get the second half, which is when I talked about some of the stuff that Brian and I talked about about Batman and my thoughts on what it means to write a correct or incorrect version of him. Thanks guys!
S