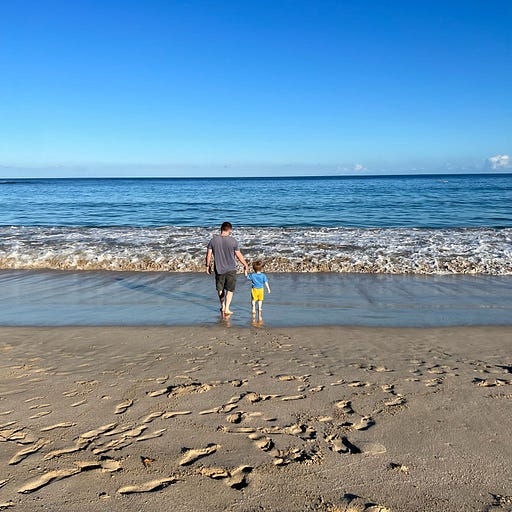 Jun 22 • 3M
Newsletter #80: A Best Jackett Aloha!
A quick message from Hawaii to talk highlights from Washington Summer Con and a huge Nocterra issue!
[Apologies for the audio quality, I'm in a very noisy part of Hawaii that made this episode a real pain for sound edits]
Hey guys, it's Scott.
It's Tuesday, June 21. I am away on vacation with my family in Hawaii, which is amazing. Big news—this week, the finale of our second arc on Nocterra comes out, Nocterra #11. It has one of the biggest twists of the series, something we've been building to for a while. A couple twists, actually. I think it's one of our strongest ones. I really hope you'll check it out, I love it tremendously and the art by Tony Daniel and colors by Marcelo Maiolo and the lettering by Deron Bennett and everything that Tyler and Will did on the issue is fantastic. So please, please go pick it up.
In other big news, I want to say thank you to all the amazing Best Jackett subscribers who came by and said hi at Washington State Summer Con! It made my whole weekend to see so many of you come by and tell me and everybody how much you're enjoying Best Jackett. It really meant the world. And I signed all your books:
They'll be shipping soon for regular paid subscribers. And Founders Tier members, our Black Jackett subscribers, we got two of your five exclusive covers coming your way soon—the We Have Demons signed by me and Greg and the Nocterra: Blacktop Bill signed by me and Tony. So we're in really great shape!
A couple of the big highlights of the con—hanging out with Brother Greg Capullo, getting to catch up. Too many late nights there, a couple too many that left me feeling a bit worse for wear on Sunday. I have no stamina anymore for conventions, I'm getting old. But I love you Greg and it was so good to hang out. And getting to see Kyle Higgins, who's killing it on all his Radiant Black, Radiant Red, Radiant Pink, Radiant every color in the world. And Rogue Sun series.
The fans were amazing. They were so kind to me and to Greg, and also to my kids who were wandering around. You made me look cool in front of them, which was fantastic and I really appreciate it. And it was really cool! It was a great con, it was big and comic-based but not overwhelming, and it was local. It was just cool, man. If anyone is anywhere in Tacoma or near Seattle next summer, you should check it out because it's a great one.
One cosplay highlight was when I thought I was looking at the best cosplay of the weekend when this robot was dragging somebody that I thought was a sci-fi soldier on this stretcher across the ground and I was like, "wow, look at that! That's wild!" And it turned out it was actually just a demonstration of an actual robot who can do that in real life. So it was embarrassing, but it was something very cool to see. And yes, there were amazing cosplayers there. One was Walter White, there was a guy dressed like Walter White who came to the table who you could not have distinguished between Heisenberg and him.
And yeah, I just wanted to tell you again how much I appreciate everything you guys are doing for Best Jackett. I'll chime in on Thursday with a bit more substance, but right now I'm away with my family. We're at this place on the north coast of the big island that my grandfather and grandmother actually used to take my mother to when she was a little kid. And I grew up coming here and exploring with my wife and checking out the different towns, and so bringing my kids to the same beach that I played on when I was a kid, I know it sounds corny, but it's really nice to see. So my mom's here, my dad, my sister and her family, and Jeanie's mom. So yeah, it's a big family getaway and wouldn't be able to do without you guys, so thank you so much!
S