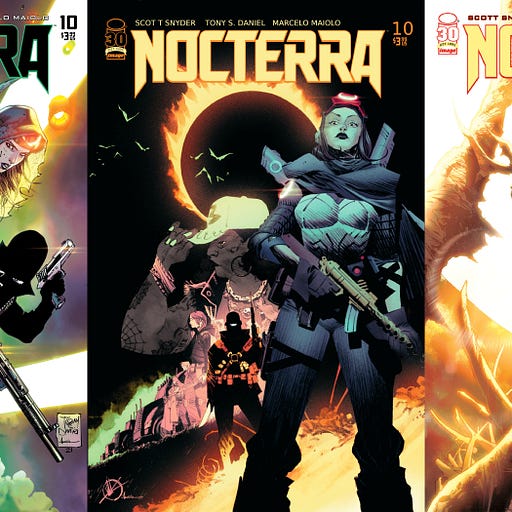 May 10 • 7M
Newsletter #70: Send Your Book in by Tomorrow!
Last call to postmark your signing-via-mail book PLUS Nocterra #10 and FCDoS!
Anything and everything BJP, from new projects to exclusive deals and merchandise, variants, classes, ALL of it
Hey guys, it's Scott.
It's Tuesday, May 10th, and I hope you had a great, great Free Comic Book Day in these crazy times we live in and you got out to a shop and got to celebrate comics and got lots of amazing free comics and also bought incredible graphic literature from your favorite retailers! So before we get started, two big things. First, as paid subscribers, your deadline to send me a book to sign is TOMORROW, Wednesday the 11th! It has to be postmarked by then, or it's gonna get sent back. To clarify, we don't have to receive it on our end by Wednesday, but it has to have been sent out from your end by then. This will give Founder's Tier members a month and a half after you guys have had a month and a half, and it creates a window where I can go down and sign everything. So please, please, please, I'm going to be saying this like a broken record on Twitter and on Instagram and Tyler is going to be doing it, but I'm trying to sound the alarm—if you want to send me a book to be signed for free, all you have to do is pay the shipping. If you are a paid subscriber to Our Best Jackett and take the class or do it for any kind of content, if you are a $7 a month subscriber, you can send me a book, any book (a trade, a comic, etc.), and I will sign it at no extra cost, just pay the shipping to and from your house. The address and shipping info is here:
Send your book to:

ComicSketchArt
5438 Lockwood Ridge Rd. #173
Bradenton, FL 34203

Include a sheet of paper with your contact info on it so we can reach out to bill you for CGC if you want that and for return shipping.

Please write your name, address, and phone number on the back of all backer boards!
You're sending it to Comic Sketch Art. They have a warehouse, all these books are going there and I'm going to sign them. There are already many, many, many books there, so I am getting my arm and signing hand ready and in shape for this one. So yes, please please, it has to be postmarked by the 11th. TOMORROW.
Second, Nocterra #10 comes out on Wednesday!
I love this artwork. I love this book. It gets darker and weirder and more action packed every issue. I hope you'll check it out. We're really grateful that you guys have made this one such a smash hit. We're gonna be doing a statue soon, a Blacktop Bill and a Val. Can't wait for you to see it. We're going to offer it to the Founder's Tier members, the Black Jackett Club members first, and then to paid subscribers, and then to everybody else. So again, another reason to sign up for the paid membership if you want. We've got, like, nine or ten classes archived for you. Anyway, I will stop shilling.
So, quickly, Free Comic Book Day on Substack! I just wanted to put out the word for a couple of things I hope you'll check out. Substack did Free Comic Book Day on Monday and there's a ton of great stuff from friends of mine.
There's John Hickman, who put up things for 3 Worlds / 3 Moons. There's a special preview chapter of the series THE VALLARS:
And then James Tynion IV, my brother from another mother, is debuting a brand new series with the legendary Klaus Janson, who's also a friend. It's an anthology series and his first story's with Klaus and it's called "Coney Island." The series is called True Weird. It is an absolute 'don't-miss-it':
Xanaduum by Grant Morrison has a never before published story called Going Home written in 1982. It's amazing:
There's other great stuff, I'm not going to list everything, but Copper Bottle by Saladin Ahmed and David Acosta is serializing their Kickstarter book Dragon:
Brian Vaughan has Exploding Giraffe, which just posted the latest chapter of their killer book Spectators:
Elsa Charretier and Tom King have more from Love Everlasting:
And I want to put in a special, special plug for Khary Randolph and Joanne Starer's Sirens of the City. It's so good. It's like punk and a little bit of hip-hop, even comes with a mixtape for paid subscribers. It's a story about a young girl who discovers this big supernatural fantasy mystery, not to give too much away. It's black and white with splashes of color. It's a really special book. It's one of those books you read and you're like only these two people can have made this, so absolutely check it out:
Also, 1979 Semi-Finalist by Kelly Thompson, good friend, Kelly is doing amazing things with Black Cloak and has the second issue out:
And Skottie Young, another good friend, has more stuff from the Untold Tales of I Hate Fairyland:
So you really can't go wrong, go check out Free Comic Book Day on Substack in addition to reading all the amazing stuff I'm sure you got on the actual Free Comic Book Day on Saturday.
And this Thursday I think I'm gonna get into something that my brilliant editor on all of our Best Jackett books, Will Dennis, suggested, which is he wants to do a panel at some upcoming con called How (Not) to Break into Comics. And it's essentially mistakes that people have made, that I've made, that he's made. And people really seemed to love the class that we did the other night, which I'm very grateful for, on pitching your comic. And so the gist of that class was how to present your work to an editor, whether it's through email, whether it's at a convention, and it was really targeted on that. It was how to write an actual cover letter, how to construct a pitch (and we give you a template for it), a walk through why the priorities are such as they are in the design that we sent to everybody.
So it's a really, really hands-on specific class, but we did also get into other things that you don't want to do to jeopardize your chances of your work getting out there. It had to do with everything from social media, to convention behavior, all of it. So I think maybe it will distill a couple things from that on Thursday in case you missed the class. And again, if you're a paid subscriber, it's there for you in the archive now—video, audio, everything. But I thought I'd do it in a way that expands the discussion a little bit in some of the places that people felt most passionate about, like social media and convention behavior at BarCon and all that kind of stuff, and just give my thoughts, give you some musings and opinions on it, and you can take it or leave it, obviously. They're just my opinions and I might be 100% wrong and I'm always here listening. But having been in the industry a while now, I feel like I have some advice to give, and it's really that.
My goal as a teacher, during the class and as an advocate for you guys as up and coming writers, is to try and give you the best guidance that I can with no bias. To just say to you, "these are some things that I believe to be fact about the way the industry works, about the things that you want to do right, that you don't want to do wrong, these things." And again, there are plenty of examples of people who've done the opposite, including myself. I've made huge mistakes that should have blocked me, from continuing yelling at my boss, all kinds of stuff like that. Usually that, honestly—yelling at bosses internally at DC. But, ultimately, the point is that I want to do the best job I can as a mentor, as a teacher, and be raw about it and say that these are the things that I think you just want to be aware of this way.
So anyway, we'll do that Thursday. Again, thank you. Please, please postmark your books by tomorrow to send to me if you're a paid non-founder's tier subscriber, and Nocterra comes out tomorrow, really fun issue. Check out all those amazing comics on Substack. And yeah, excited to hit you guys up again Thursday. Thanks!
S