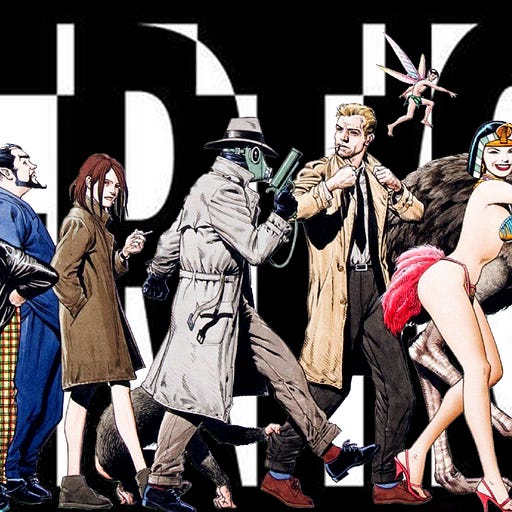 May 3, 2022 • 4M
Newsletter #69: As Nice a Time as Any to Join Comic Writing 101!
Some info on this week's class about pitching to editors!
Anything and everything BJP, from new projects to exclusive deals and merchandise, variants, classes, ALL of it
Hey guys, it's Scott.
It's Tuesday and I am very excited for this week. We are doing our Comic Writing 101 class tomorrow night, Wednesday, straight from 4th World Comics. It's going to be a blast! Get your mind off all the craziness and horrors of the world. But the topic this week is going to be pitching. So we're going to be talking with Will Dennis, who was the head editor at Vertigo at DC Comics for quite a few years.
He greenlit seminal series during that period from Y: The Last Man to 100 Bullets to DMZ and American Vampire for me and Sweet Tooth for Jeff Lemire, on and on. So he's a incredibly insightful guy when it comes to what it takes to get an editor to really look at your pitch. He's worked with hundreds of writers, artists, and teams, and also he's worked with so many other editors and legendary people and up and coming young editors as well. So he's got a really good finger on the pulse of what editors are looking for and what timeless things you should always consider when organizing your pitch.
We have a couple of documents that we're uploading that he provided. One is a pitch template, one is a funny and true piece about myths about editors, and one is some words of affirmation from Stephen King's On Writing. You also have the two pitches for me—one is the original pitch for Night of the Ghoul, which is, again, creator owned and something kind of shorter and sweeter. And then you have the full-on original pitch for Court of Owls from Mike Marts at DC Comics from 11 years ago that has a whole much more extensive structure. So it gives you the whole scope of different kinds of pitches.
[Full class material folder is now located at the bottom of Thursday's post]
But the point of showing you two really wildly different ones is honestly to show you what's the same about both of them. Yo show you how they have the same sensibility, the same set of priorities beneath the surface. So I think it's going to be a really fun and helpful discussion!
I'm trying to do the classes as, like, 80 to 90% craft, and then 10 to 20% business and the business of writing and making comics. So this one really falls in the latter category. It's a crucial lesson when it comes to presenting all this hard work that you've done on your comic to editors. We're going to talk about things like approaching editors with your pitch at conventions versus emailing, what makes a good cover letter, all those kinds of things. This is all about putting your best foot forward and representing your work, the work that you love, in the best way possible to editorial. So it should be a lot of fun! It'll be 9:30 ET from 4th World Comics, it's going to be a good time, I can't wait to do it. So hopefully I'll see you guys there and we'll have a blast!
And last thing, if you have not signed up yet for the class, or for the $7/month paid membership, please please do! We're going to start talking about closing the window on having your book signed pretty soon, but right now that window is open. That means that if you are a paid subscriber to Our Best Jackett, you can send a book of your choice to me if you pay shipping with the instructions here that Tyler is putting in to send to Comic Sketch Art, who manage me at cons:
Send your book to:

ComicSketchArt
5438 Lockwood Ridge Rd. #173
Bradenton, FL 34203

Include a sheet of paper with your contact info on it so we can reach out to bill you for CGC if you want that and for return shipping.

Please write your name, address, and phone number on the back of all backer boards!
You can send any book of your choice as long as you pay shipping to me and I will sign it for free, for no cost, and ship it back to you. So just one of the perks of being a paid subscriber. On top of that you get the class—we've done eight or nine or ten classes already, all of them are archived in audio and video for you to access whenever you want. And yeah, I hope you guys are enjoying this as much as I am. Thanks!
S