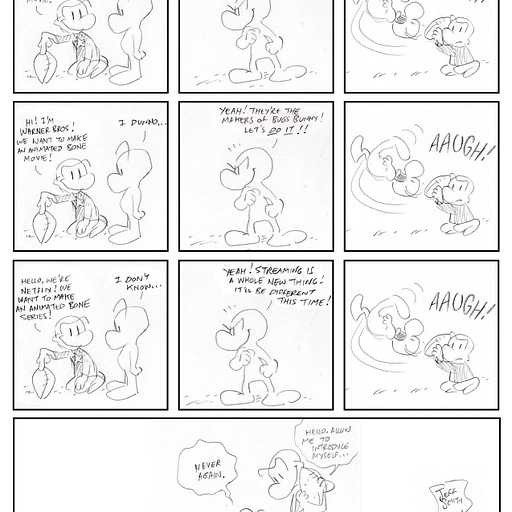 Apr 26, 2022 • 14M
Newsletter #67: Comic Optioning 101
A quick and dirty guide to media rights ownership – Plus another WE HAVE DEMONS this week and an unfortunate class delay
Anything and everything BJP, from new projects to exclusive deals and merchandise, variants, classes, ALL of it
Hey guys, it's Scott.
And I was going to do something today about Disney and about this kind of ride that we kept experiencing. All their new rides seem to be this really cool and fascinating combination of physical, old school attractions that are black box rides with huge sets and then also big simulator components, big 3D movies and stuff like that. And it's this really interesting blend of elements to me, because it makes a ride much more immersive and experiential. And it has this kind of old school feel, even though it's blended with really new technology, and not just to talk about the ride, but how I think it's indicative of a trend towards more immersive entertainment that doesn't just feel immediate, and doesn't feel like it's a sort of a factory thing, which is the way I think a lot of simulators can feel—impersonal, I guess, but experiencing a physical thing, a set built for you. And the effort and craftsmanship it takes to produce that kind of thing I think gives a different kind of reward. But then all this stuff popped up in the comic news about optioning and movies and selling the rights of your stuff and whether it's worth it or not.
And a lot of it had to do with Jeff Smith's Bone, which is a fantastic series if you haven't read it. My kids all love it. It's kid friendly and it's smart and funny and touching and all of it, so absolutely check it out. But he posted a cartoon of his character essentially going through the whole Charlie Brown/Lucy football scenario over and over and over again three times because his series, Bone, has been in development hell for a long time and gone through three different companies. It went through Warner Brothers, and it went through Cartoon Network, and then it went through Netflix and all three times it never came to fruition.
And so it sparked this sort of debate online about whether or not it's worth it to dive into TV and film stuff with your comics. And I feel as though the argument is happening on an axis that doesn't really make sense to me, so I wanted to give you guys a little bit of a window into what it's like when you option something, when you have a creator-owned book and it has a life in other medium in some way or other, even if it never makes it to the screen, and why, above all, I don't think it's this binary thing. I don't think it's this battle between pure comics and other medium. It doesn't make sense to me to frame it that way, to say, "well, you wasted your time hoping that your comic would become this or that…" Because a lot of the time, it's much more confluent and, honestly, having options out in the world is a stream of income that really helps indie creators.
So, for example, I'll give you a few different things, like a few different methods that I've used towards this whole world of film and TV rights. So there are things like American Vampire, which I don't have the rights to because when I was just starting out, when I created it with Rafael for Warner Brothers, they took the rights and they took it for an option amount that was predetermined and then could be renewed as much as they want, basically. So they would have it in perpetuity. But it was something like, I don't know, $15,000 or maybe a little more, I can't remember, honestly. But it was it was 12 years ago and it was a good amount of money for me at that time entirely. Not that it's not a good amount of money now, but I mean it was really important back then when I was broke. And every time that option came up we'd make a little bit more money.
If you don't know what an option is, an option is essentially a studio renting your property with the hope that they will make it. And if they can get enough pieces of the puzzle together to make it, let's say they attach a director that really wants to do it, let's say they find a screenwriter who has a great take on it, let's say they have producers involved that really want to not only help finance it but have a vision for how to package it, then they'll pull the trigger and they'll buy it. And if they buy it it's exponentially more than the option. Not enough to make you rich necessarily or anything, but if it's a $10,000 option the purchase is probably about $100,000. If it's a $50,000 option then the purchase price is probably somewhere between $300,000 and $500,000 or something like that, maybe a lot less.
Every deal is different and it's ever-changing, but essentially what usually happens 99.9% of the time is that they option it, they try to develop it, and then after about three years the option comes back to you and they can renew it, depending on your deal, for the same amount, for a little bit less, maybe a little more, just depends on what your agent or lawyer set up. Or they can let the right to revert back to you, and if the rights revert back to you then you can go back out with that property into the market and have a whole new partner if a different studio, different producers, different anybody comes in and says "I want to make this." You might be approached by a director, you might be approached by a streaming service, you might be approached by a screenwriter who has an idea for it, you never know.
But the idea is that optioning something or getting an option, again, it's not something that's going to make you rich and it's not something that even necessarily is that much money in terms of an income that can support a family or anything like that. But the good thing about it is that it becomes a loop if you're lucky, where either they're going to buy the property, in which case you'll make a significant amount of money, or the property comes back to you and you can go back out with it and hopefully you can try and option it again. I'm sure properties after a certain period of time might not find a home and they might need to rest, and luckily that hasn't happened yet with anything I've done. But all the different things that I've done for creator owned—Wytches, A.D. After Death with Jeff Lemire, the things that I have control over have gone out into the world and been optioned, and that money, a lot of the time, was really needed. So it's a great system in the way that it creates a secondary tributary of income. And it creates a possibility that if the thing does become a TV show or movie, you're gonna make a lot of money, it's going to be a windfall. And the royalty structure on most indie books is set up so that if it does, you make more money, honestly, from your book at that point than you probably would from the TV or movie. I assume that Robert Kirkman makes a lot more from the comics of The Walking Dead than he does from the show, given Image's great royalty structure and how many trades that show sells.
So the point I'm trying to make is that I have some things out in the world that I'm not involved in. So Tony Daniel and I, when we placed Nocterra at Netflix, they had a great writer, somebody we're really excited about, great producers, James Wan and his company, and we didn't need to be involved. We didn't feel we needed to write it and, beyond being executive producers on it, we felt that they were going to do a great job on their own. So that's something where we made option money and then, if they don't make it, if they don't pull the trigger on it, in a few years that property comes back to us. That's what happened with Wytches.
Wytches was optioned by Plan B back in 2015 and they did a great job trying to develop it as a film, but it didn't happen and so the rights came back to us. And then we went back out with it and it got picked up again. And this time was the first time I was invited to be a part of the process where they asked me to write the pilot and then participate in the writer's room. And ultimately, we're right at the point now where we're going to find out whether or not it's going to become something real, if they're going to make it, or it's going to revert to us again. But what I can tell you is that the experience was great. I love the people that I met in the writers room, I made a really great ally in one of the producers who does a lot of animated stuff that I'm interested in, and it paid well. So for me, if it doesn't become something, I'm going to be really bummed out because I think the work that the writers in the room did was pretty incredible, and I think the show is as good, if not better, than the book. But if it doesn't, that's okay, the rights revert back to us and we can try again and work on series.
So what I'm trying to say is, yeah, it's super heartbreaking when something doesn't get picked up, if it gets an optioned and then nothing happens with it or if it gets optioned and goes even further towards development and then nothing happens with it. But it's not like you're giving up your comic career for that to happen. On Nocterra, we're just working on the book adjacent to whatever they're doing with the TV show and it doesn't impact what we do. It doesn't take away from anything we're doing with the comic. It's not like a choice we had to make. With Wytches it was a choice in the way that I decided to be more involved when they invited me to be more involved. And that work might not pay off in a way that has something ending up on a screen for it. I hope it does, and I'm confident, but if it doesn't that's okay because they paid well for it and it didn't take away from the comics, I was able to put out more stuff that I'm intensely proud of this year than any other year in my career, really. We put out We Have Demons, we put out Clear, we put out Nocterra, we put out Night of the Ghoul, and I have a bunch of other stuff coming up.
So I don't see why people get on creators or get into an argument over optioning stuff or being involved in film and TV adaptations of your work as something that should be in conflict in any way with your comic production. You can do it in such a way where there's absolutely no obligation to you to be involved if that's what you choose, where you give it to a company that's making it on their terms and you're not involved at all and you're just making the comic, or you can decide to be involved. And there's always a risk that it might not come to anything, but you're getting paid for it, I assume. And at the back end of it, if you have an attitude of we'll see how it goes, again, it's heartbreaking and if anything should be a show, Jeff Smith's Bone should be a show. I mean, I'd kill to see that. And a lot of things take forever to make it onto the screen and wind up not having a long life, like one of the best series in comics ever, Y: The Last Man.
But I'm just saying they're not at odds with each other. It's not like you're doing the comic or you're doing a TV thing, or you're wasting your time and TV and film because it might never come to anything. All of it is just a process and there are different ways of creating income for yourself as well to support more indie books. The fact that I did the Wytches writers room allows me to invest in a lot more things outside of myself and other people's books this year.
So I don't know, I feel like the argument isn't really an argument, that's what I was trying to say. It'd be nice to see people thinking in broader terms about how all of it is an ecosystem for you as a creator to take advantage of as much as you can and make the best work you can in print for print. Never make something that's designed to just be an adaptation, but don't be afraid of adaptation and ancillary rights and that stuff because it can become a really good pillar, both financially and a great creative avenue if you enjoy it. So I don't know.
Also, We Have Demons #2 comes out TOMORROW from me and Greg Capullo through Dark Horse Comics.
It's a crazy fun chapter, you get the whole history of demon fighting from the point of view of Gus, our resident hulking demon who looks suspiciously like Greg Capullo, even though Greg doesn't see it. And the action and suspense and everything ramp up as Lam gets deeper into the world of good versus evil, so I can't wait for you to see it. Jon Glapion on inks did an incredible job. Dave McCaig is out of this world on colors. Tom Napolitano on letters, old friend, just got married:
Wish them congrats on social media, and killer killer letterer. Will Dennis editing with Tyler Jennes, my assistant and amazing, amazing ally. And yeah, thanks to everybody at Dark Horse! We're so proud of it, check it out, let us know what you think, also!
And people doing free subscriptions—if there was ever a time to get a paid subscription it is now for Best Jackett. All you have to pay is $7 a month! I feel like I should have done $10, but rip me off, please. Because at this point we have so many classes archived for our Comic Writing 101 class on video and audio. We have mini-lessons, all kinds of stuff. So now it's genuinely a treasure trove of stuff about comic writing, from classes on characterization to three act structure, conflict, and villains. There's talks with everybody from Greg Capullo to Chip Zdarsky to Donny Cates, James Tynion IV, so please, please sign up!
It's also the moment when you can send a book to me of your choice, all you have to do is pay the shipping and I will sign it for free and send it back to you. All paid subscribers get that plus if you're a paid subscriber at cons coming up like San Diego, like Washington State Summer Con that I'm doing in June, I will have a signing that's just for paid subscribers. That means you likely get to cut a multi-hour line down to a very short period of time, have your own special lightning line with me. And I really do feel like you get a lot more than you're paying for with this one, but I'm really happy to do it. And yeah, please sign up!
Last thing, before we get started with any more Comic Writing 101 stuff, I have some personal stuff I've got to take care of this week. Some medical stuff, it's no big deal, but it slipped my mind and so I'm really out of commission tomorrow and Thursday. So if you can just wait one week, we'll do the class next week (May 4th at 9:30pm EST), I promise. I really apologize, I just forgot that I had this stuff scheduled and I can't get out of it, but I can't wait! It's gonna be super fun—Will Dennis, legendary editor, is going to talk to you about how to pitch your comic successfully. So it should be a ton of fun!
S