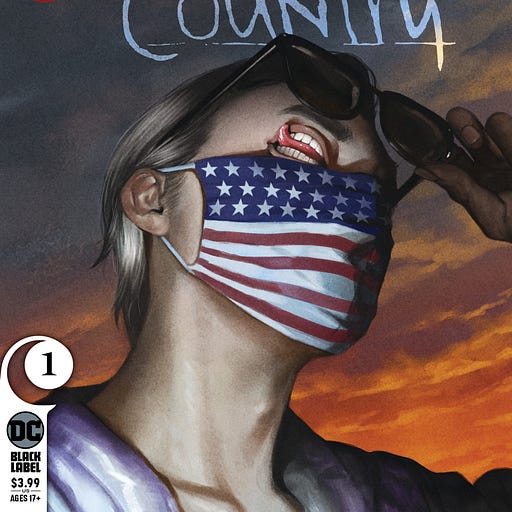 Apr 13 • 4M
Newsletter #64: My New Comic Book Day Recs!
Sharing some love for a few of the great comics out this week
Hey guys, it's Scott.
It's Wednesday (New Comic Book Day), and in that spirit, I thought I'd spend a little bit of time highlighting a few books, at least, that I hope you'll go and check out. Before I get to it, We have Nocterra #9 out today by me, co-creator Tony Daniel, and our incredible team.
If you're not reading the series, it's about a darkness that falls over the Earth and changes every living creature that doesn't stay lit in some way or another into a monster. So it's big, over-the-top, high-octane monster fun, and this issue in particular is my favorite one we've done so far, easily. It allows our villain, Blacktop Bill to really shine. Wrong word, I suppose, as he's like a walking silhouette, but it gives him his—I was gonna say day in the sun. I am just tired, I will be upfront with you. We are headed down to Florida to visit friends and family this weekend and we are also taking Quinny to Disney World for the first time for a couple days, so he is so excited he is not sleeping. Nothing makes any sense to a two year old about it, but they're all excited. So like his comments about it last night are, like:
Q: "Dadda, we're going to the castle soon!"
S: "Yes, we are."
Q: "In ten days!"
S: "No, in three days."
Q: "No, ten days!!"
S: "Okay, ten days."

Q: "We're taking a plane!"
S: "Yes, we are."
Q: "But it's not going up in the air. It's gonna go on the road!"
S: "No, it's n—"
Q: "No, it's gonna go on the road!!"
S: "Okay, it's going on the road."

Q: "And I'm gonna see Mickey Mouse, but he's gonna be small!"
S: "Well, he's gonna be big."
Q: "No, he's gonna be small! And I'm going to tell him I got a haircut."
Like, let's just just roll with it, see how it goes. So it is a joy to be able to take a kid that age and I'm really excited. We're just swinging by Saturday and Sunday, but his energy level and excitement level is so great that I'm, like, losing my mind.
So Blacktop Bill gets to be his great murderous self in a big way. That book is out right now, so go check it out if you can. We're so grateful to you guys for making it such a hit and getting Netflix to pick it up! Really eager to see where it goes from here.
Okay, first book to recommend. It's an obvious one, but James Tynion IV is doing work in the amazing Sandman Universe from Neil Gaiman. He has Nightmare Country #1, it's the horror aspects of the Sandman Universe. It's him in his element working on his dream project. You should completely check it out, it's got incredible co-creators on it and The Corinthian and everybody's in it. You can't go wrong with this one.
Also, the first issue of Image!, Image Comics' 30th anniversary special, comes out. It's got a fantastic slate of creators in it.
It also has an opening story from my buddy Kyle Higgins, who's doing amazing work on Radiant Black and the whole universe that he's creating over there with Radiant Red and Rogue Sun. If you're interested in fully immersive superhero tapestry then go there.
Also out this week over in Gotham—Batman Urban Legends, a great anthology book. Star Vita Ayala does great work in it and Che Grayson, who's a friend and a real up-and-comer both in comics and in TV, does an awesome Birds of Prey story. And Mark Russell, one of the funniest and smartest guys in all of comics, does an Ace the Bat-Hound tale. Also, Cammo from Undiscovered Country is in it, so go check that out!
And you can't have an Elektra issue with Ann Nocenti on it go by without picking it up. So if you're unaware, Ann Nocenti did seminal work in Hell's Kitchen on Daredevil back in the day, and Elektra #100 is out today, go check that out!
Another book that I read is Rain from Joe Hill and David M. Booher with artist Zoe Thorogood.
Zoe did a book called The Impending Blindness of Billie Scott, which I read a little while ago and loved.
So she writes and draws her own work, but over here it's a really good unsettling read, you should completely check it out.
And that's it for right now! Again, I know there are so many books I'm not thinking of, so if you have recommendations, put them in the comments here and I will try and check them out and also mention them next time around! And thank you guys again for everything. Wish us luck down there in Florida with this crazy goblin of a kid, it should be fun. And I wish you guys all the best. Talk to you soon!
S