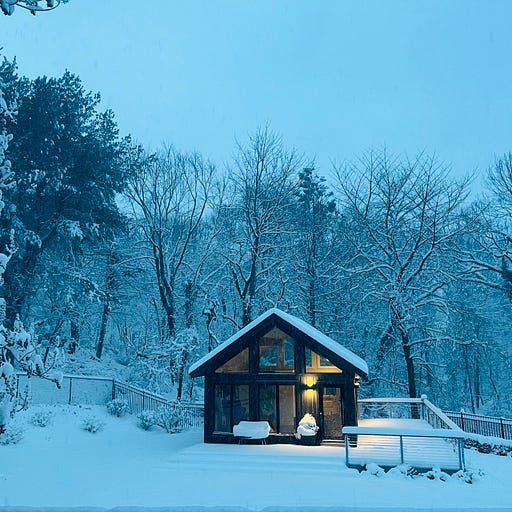 Jan 10, 2022 • 6M
Newsletter #46: An Early Birthday
Putting to rest some confusion on my birthday and announcing the latest in Best Jackett news!
Anything and everything BJP, from new projects to exclusive deals and merchandise, variants, classes, ALL of it
Hey guys, it's Scott.
Hope you had a great, great weekend. I did, myself. I spent a lot of it helping Emmett, our 10 year-old, do his science project, which is about which bat hits a baseball further—aluminum or wood. And he had this whole belief it would be aluminum, and then all the data showed that it was actually wood when you hit it with a sweet spot. So, he was excited. Yeah, just hunkered down, hanging out with Quinn. We had our first snow, which he was thrilled about and ate like five tons of fresh snow. Jeanie, my wife, eventually decided we'd put flavoring on it for him and made snow cones, and he had a blast. Next time he does it I'll take some pictures and put them up here.
But yeah, I think a lot of it, I wonder if you feel the same way, is just dodging getting sick. We don't we don't see many people, we don't do many things, we just hunker down and try and keep the kids safe. I mean, we're all vaxxed and our 14 year-old, Jack, is about to get boosted, but even so, it's that feeling of worrying about getting out there and getting sick. Not that I think that any of us would wind up in the hospital or I'm worried about the severity of the virus itself given the fact that, again, we're all pretty protected from it. It's just the frustration and the desire not to pass it along and to make it something that's going to continue to mutate and create more variants and just stay with us. You just want it to die. But overall it was a solid weekend and a lot of Dad-ing
Also, I got a lot of really nice notes from from people about my birthday. I don't know if somebody made a joke about me being such a Elvis fan that my birthday was the same as his on the 8th, but I got a lot of birthday messages. Mine was not this Saturday, though, it's next Saturday on the 15th. But I am a huge Elvis fan. I have been since I was about 17 when I went to a very preppy high school after growing up in a more blue collar sort of area. And I started to fall in love with Elvis because I wanted to find something that nobody else would like in that environment. And then ultimately I really fell in love with the whole musical catalog, but I really fell in love with the early stuff—the stuff when he was 17/18 and believed that he was already a rockstar and would go to school dressed like a rockstar. He had that swagger, wore eyeshadow, did all kinds of transgressive stuff at a time when everybody was super conservative where he lived, and that gave me the courage to want to be a prose writer and a comic book writer, all that stuff. So, he was always kind of my spirit animal.
And then, as I got older, I loved going to Graceland and Vegas with my friends and I used to go to the Impersonator Olympics and Elvis Week and all that stuff. But my birthday is next week. Thank you in advance for the birthday wishes that always come with having your birthday be public on Facebook or Wikipedia or whatever it is. If you want to get me a birthday present, honestly, the best thing you can do is order Nocterra today. Today is the Final Order Cutoff (FOC) for our newest arc. It's the first issue of Arc Two, and I genuinely believe (as does Tony) that it's better than our first arc. We'll put some preview pages here so you can take a look:
It's much more Road Warrior and really high octane. And I don't want to spoil anything, but it gives the cast a real great expansion, so I can't wait for you to see it. Today, today, today is final order, and we have a lot of great covers. We got one by buddy Ryan Stegman, another by Jason Fabok and Brad Anderson, another by Meg Hutchinson, and Dani Strips and Brad Simpson—we've just got great, great covers, so go out there and order it!
The other thing you could do if you want is get a subscription to comiXology Unlimited—not just to read our books, but to read the thousands of books by other comic creators that are on there that are probably better than me. There's some legends and some brand new voices. You can get a subscription for yourself or somebody else and let them fall in love with comics or going down the rabbit hole and being able to browse thousands of comics for the price of one. I believe in it and I hope you'll give it a shot!
Also, I was really excited that you guys seemed to respond well to the posts that were just about comics that I've been enjoying reading in comics and in literature in general. A couple things—people were asking me about books about writing. I gotta say my favorite will always be On Writing by Stephen King. I think that it blends the personal with the academic in a brilliant way. I'm not the biggest fan of books like Story by Robert McKee and other ones that teach you a methodology as much as I am of ones that teach you how to follow your passion, how to use the things that you care about to create story.
Also, another comic book series I left off, I think one of the best ongoings right now is Killadelphia by Rodney Barnes and Jason Shawn Alexander. I just love that book. It's vampires, it's about Philadelphia history, national history, it's about race… it's just fantastic. So, I really hope you'll pick it up.
Also, some sites I hope you'll follow—The Beat, Heidi MacDonald is one of the last old school comics journalists standing, that site is amazing. There are great people at CBR as well—Sam Stone and Brian Cronin, and they are great people at Newsarama—Chris Arrant, who I adore. Those sites are great, but The Beat is one of those ones that does a lot of in-depth coverage that I hope you'll check out because I have a lot of fun this for them and for Heidi as well.
And yeah, lastly, I just wanted to say thank you again. I'm going to do a paid subscriber post on Thursday about reading outside of comics, but taking lessons for comics. We're going to look at some poetry, if you can believe that. I have a bunch of friends that are poets, God bless them. I don't know how they survive financially at all, but I love them and I love their work. And I want to take a look at how you read other things and take in other formats, other mediums, and take lessons for comics. So, we'll do that. Again. I can't thank you enough. And yeah, let's talk soon!
S