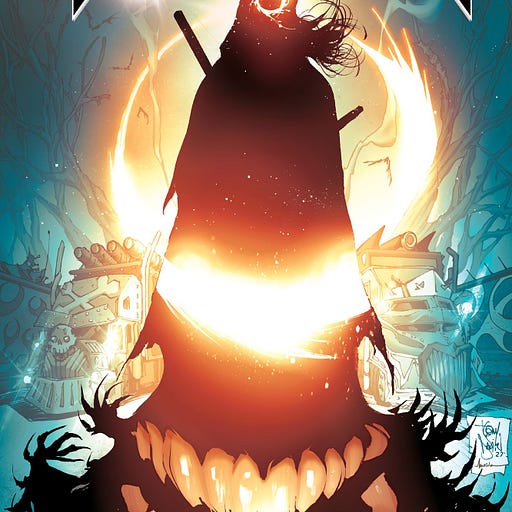 Feb 18 • 13M
Newsletter 121: Snyders at Sea!
Taking you all back to the pros and cons of a 2017 convention/cruise experience
Anything and everything BJP, from new projects to exclusive deals and merchandise, variants, classes, ALL of it
Hey guys, it's Scott.
It is Friday, February 17, although this will probably go up on Saturday, February 18, because I wasn't able to record it earlier in the day. Apologies, Tyler (great assistant). But a couple quick housekeeping things before I get into the meat of this, but Monday (if you're on social media, you've probably seen us obnoxiously going on and on, but we really care about this one), is the final day to order Nocterra #12. It is the first issue of our third giant arc, it's easily our biggest and craziest yet and it's a great jumping on point! We have a whole recap, you don't have to have been reading the series to give it a shot. If you are not reading Nocterra it's about a darkness that covers the earth and changes every living creature into a 'shade.' That's a mutated monster. And it focuses on a bunch of truckers called the Ferrymen trying to save the world.
So also, Canary #5! Canary is a western/horror book. It's really ambitious, honestly. It's something really different for me. I'm extremely proud of it. It's co-created by the amazing Dan Panosian—so many ideas in there are is. I mean, it's really a collaborative effort. But it's supposed to be a western with a bit of Lovecraftian horror that speaks to this moment. For me, westerns are always about examining the American character, about stress-testing some of our ideas about ourselves, good and bad. And so this is sort of a twisted Western that takes things up at this moment. So I'm really excited about it. It comes out Tuesday from Comixology digitally. So I hope you'll give that a try!
Now, a couple things. It seems like you guys really love the idea of these anecdotes I was doing about like, the first time I was supposed to meet Dan DiDio and Geoff Johns and Jim Lee, and just stories from comic past. So I'm going to do some of those in the upcoming posts, I'll do one today, and also meetings with creators, like encounters of creators that inspired me. So next time, I'll do one about my first meeting with Grant Morrison, it was a really funny one where basically I looked up to them forever and then met them at essentially like, the buffet of San Diego in the morning before we had this booksellers thing together. And it was a really important experience in my career. But anyway, today I was thinking about conventions because I'm just finalizing the details and flights for my final convention. Right now our kids are on February break as of today. So our 16 year-old is in the downstairs with his friends who came over and slept over. I'm sure they were up way too late so they're completely passed out down there. And our 11 year-old Emmett is about to go away with my wife, Jeanie, on a mother/son trip to Boston to see Fenway Park and all that stuff. And then at the end of the break, I'm going to try and take Jack, our teenager, skiing.
We were planning on going out to California, all of us together with Quinny, as well. But because of the writers room and the volatility of the initial weeks here when we're trying to lock people down for the room and figuring out contracts, it was impossible for me to commit to being able to go away this week, even though now I guess I could have. I didn't want to make plans and then find out the writers room was supposed to start if we could finalize contracts with people and such before that. So instead, we're sort of doing a piecemeal mother/son father/son vacation, patch it together, do-it-yourself stuff, but I'm excited for it. So it'll just be me, Quinny, and Jack home for a few days. So it will be like a lot of waffle meals. But because conventions are coming up, I'm going to C2E2 at the end of March. That's going to be my first one in quite a while. I don't know what I'm doing after that. I'll definitely do San Diego and New York, but I'm hoping you guys come by, say hello. I'm really excited, I'm just going by myself. I got no kids with me, so I can really dive in and work and fully throw myself into saying thank you to you guys for all the support over the years. And we'll have a VIP event with me and Tony Daniel. He's a Chicago native. So I'm excited to hang out with him and promote Nocterra, which again, issue 12 will be out then. So it should be a great time! I hope you'll come by.
But it got me thinking about convention experiences. And so I wanted to tell you a funny one today, because it's the weekend when you're listening to this and why not? So a few years ago, I got invited to something called Fan2Sea. It was this idea to have a comic book convention on a cruise ship. It was me, Brian Azzarello, Frank Miller was supposed to go, Gail Simone, and there was some comic industry folks, some comic journalists folks, a bunch of great people. I was very excited to go, and I brought Jeanie, I brought the kids, and the ship was supposed to take off from Tampa and spend a five-day trip. It was gonna go down to Mexico and dock and then come back up. And I'd never been on a cruise ship in my life. The fun thing was like, "Oh God, we're gonna get to go and hang out with all these creators and just have a good time!" There was gambling on the show, it made stops where we got to get off and explore, and we're all thrilled. But I kept wondering, I'm like, "how is this going to work?" Because a convention, on the one hand, people come see you once, maybe twice, and then they're done. But we're on there for four or five days. So it seems like it's a kind of an interesting concept where I was like, "We're either gonna really get to know these fans well or they're gonna hate us by the end or what?"
So anyway, so we all got on the ship, and it was beautiful. It was big cruise ship. I didn't realize it's like eat anytime all you want. They had a running track, which I used around the whole thing. They had an ice sculpture that was like a comic book geek thing. And the people that ran it were incredibly nice. But what you started to realize by like, day two was all those fears were valid about fans coming up to this room that was the Comic Con room on top to come see you, get stuff signed, and then they were kind of done. And then you were just sort of all there. And you got the sense that this thing was not gonna be solvent or be able to be financially sustainable at a certain point because people were finished. And then the convention kind of kept going. Although the Stranger Things kids were on it and there were some Walking Dead people on it. Michael Rooker, who is a wonderfully, completely vivacious and energetic party animal, in a good way. He's the kind of guy that's like, "come on, guys, it's Comic Con! Let's goooo!" and jumps off like, the top deck into a pool that's only like, seven feet deep. He's like, that sort of energy, he was there. My kids still hate the fact that they weren't into Stranger Things at that time. It was right when it first started. Because now they love it to death.
But anyway, we were like, sailing along and by the second or third day, you start noticing the ice sculpture melting. And the organisers getting a little worried and they start bringing people on at the different stops because we weren't off the dock in Florida yet. And you notice like there's more and more people, they seem really happy to be there, they're generally older… We went to this dinner that we were invited to. And some of them were there. It was like a captain's dinner for special guests. And I went and it turns out they're cruisers, so it's like, essentially they live their lives around, and are people that love, going on cruise ships, and they all live around different port towns in Florida. And they're known to the cruise companies and they're like, diamond level cruisers. They have like, some kind of super membership. And what they do is they're like, "oh, we just have a tiny place in Tampa. And we're only there like one day a week because we spend our whole lives going on these cruise ships." And so essentially, they're like, in their apartment for a day or two and then they're invited on a cruise ship. And they don't care where it goes. Some of them go to like, fly and go on when it goes up to Mediterranean. And they know all the different details. They're like, "this ship is an A2-whatever, and it's really nice, but if it gets choppy, it's this, but you know what, the air conditioner…" it was like really funny. And they were great. And they were so enthusiastic. One of them came to the dinner and was like, "can I show you my cosplay?" And I was like, "yes." It was like an older couple, and she put on a cat suit, like a cat makeup and a cat ears, and he put on a sheet as a ghost. And they were like, "are we doing it right?" And I was like, "you know what? You're doing it great. This is awesome." There was a dance floor, it was so fun.
But it was suddenly full of all these people that basically like did not care about comics at all but we're super happy to learn and were there essentially because the cruise before this, the woman was like, "oh, the one before this was a country music one and the one after it is like a heavy metal-themed one," and they were like, all in to both. So it was like, one week country music, one week Comic Com geek fest, the next week heavy metal, and they just were the happiest people and it was so fun. And we had a blast, I had a great time. Charles Soule was there too, his family was there and our kids were friends and hung out. So it was a great time. But you can see the organizers fretting and fretting. And at one point, Frank Miller got on. He wasn't on the ship initially, and he got on when it docked. And then he like did one thing and then he like, got back off. It was sort of a doomed experiment, but it was a very good-hearted and wonderful experiment. And I learned a ton about cruise ships. And it made me want to write! It got me into this idea of mega-cruise ships and then millionaire yachts. And so I'm working on a book on the side actually, for 2024, probably, called Whiteboat, it's going to be a horror story. So it does not reflect my experience, only that it got me interested in the idea of mega-yachts and so on. But it was a great time. My hat's off to everybody that tried it!
But one of the things that it made me realize was how deeply a convention isn't just creators and fans. It's this whole incredible support network of people that are there as part of geek culture. It's the people that make statues and toys and board games and people that are there selling mystery boxes and all kinds of fandoms. Every possible fun, immersive geek thing that makes up a convention that's the entirety and totality of geek culture is there at a convention, generally. Even when it's mostly purely comics, there's still all these vendors that are just as part of the culture as creators and fans. And so without that middle architecture, without that sort of middle strata, there's just not enough to support one.
So it made me think a lot about how many people go into making a con, not just the incredible organizers and the creators and the amazing, amazing fans, but all of these people that also are a huge part of nerd and comic and convention culture that sometimes don't get maybe the same visibility, because in a convention at sea like that, they didn't invite any of them. There were no booths. It was just creators, fans, and that was it. And it was kind of skeletal. I think it would have been successful if there was so many more wonderful kind of alleyways to go down when it comes to geek culture. So anyway, Fan2Sea, may you rest in peace, wherever you are at the bottom of the ocean, but I had a great time and would do it again in a second.
And when we docked in Mexico, I got to take my kid dune buggying, which was like, completely way too dangerous for him at that time. Now he's 16, but he was maybe 11 or 10. And we went on this dune buggy where that you could go any speed you want on the beach, and then they take you to this like, tiny cove. It was a really local place where they like, made all the food right there, the guacamole, everything. And there were barely any tourist there. It was awesome and he loved it. I have a video, I'm going to try and post it now. I'll give it to Ty to put here, of us driving like way too fast and doing donuts like, on the beach. Dads out there, are those good dad/parent moments or bad moments? You know what I mean? When you're like, ziplining with your kid and they're big enough to do it, but you're like, is this totally inappropriate? I mean, it's safe, but still. You know what, I love those. Jack, our older one, is a complete adventurer, that's why, again, skiing in Colorado, whereas our 11 year-old is more timid, and nothing wrong with it, but he doesn't like roller coasters, he doesn't like that stuff. My older one is like, gung ho about all this, so he's always been the one it's like, "let's do this ropes course! Let's jump off this thing! Let's cliff dive!" So I can never tell. So forgive me if you look at it and you think it's terrible parenting, but it's a very good memory for us. He brings it up a lot.
Anyway, alright guys, we're going to name a day for class soon. Speaking of class, we're gonna make our first class free. So everyone can take a look and see what we do in the class to attract more people. Because we're really proud of it and I love doing it. It keeps growing but I really would love to make it even more robust and bringing even more people, because it's something I'd like to do for a long time. So we're going to make our first class that we ever did free. You can tell your friends to check out our Substack here and get a taste of what we do teaching-wise. Our next class will be scheduled soon, it's just the lead up to this writers room has made it a little difficult for me to figure out exactly what would be a good day, but I will do it. We will have a really fun time I promise, and thank you guys again for everything!
S