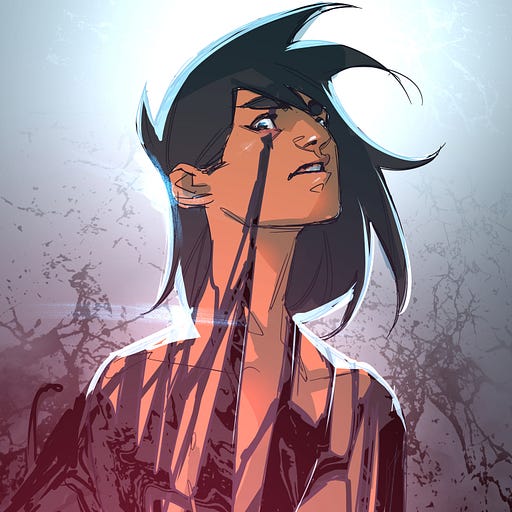 Nov 18 • 10M
Newsletter #103: Floods & T-Bubbs
Plus updates on one-on-ones, upcoming classes, and signing your books!
Anything and everything BJP, from new projects to exclusive deals and merchandise, variants, classes, ALL of it
Hey guys, it's Scott.
It is Friday, November 18, and I apologize for the quality of this one. We had a flood in our house, which I'll talk about in a second, and my microphone got destroyed, so I'm trying something different this time. But I thought I'd use this post as kind of a catch up, I intended to do an interview or two with some of my creator friends at Thought Bubble last weekend, But Tyler's flight to the convention got cancelled with no fault of his own, so it was just me and my kid there and it was hard to do. But I thought we'd talked about that convention a little bit, because it was so great. I just wanted to thank everybody involved in the organization of it—Chloe, and everybody that showed up creator wise, fan-wise. And I'd encourage you, if you ever get a chance, go to a convention like that.
Thought Bubble, for me, it was the first convention that I was invited to right when I was in the midst of all my anxiety on Batman when I was in my second year, I think? My first or second year. And every American convention I went to was full of pressure. I love American conventions, don't get me wrong, but if you're at a convention where your publisher has a big presence, there's usually a lot of obligations where you're running around to different lunches and dinners with retailers and marketing people and publicity and you're promoting and all of that. And at that time in my life, those cons were really stressful just because I was new to all of it and felt completely overwhelmed by the success of Batman. And so Thought Bubble came along and I went, not really understanding that it was a different kind of con. And so conventions in Europe are generally different, but Thought Bubble in particular really exemplifies, I think, some of the best priorities that conventions overseas have where there are no publishers there, really, it's just creators. And there's no monetizing for the most part. Signatures, everything is kind of done for free. A bunch of the proceeds of the con go to arts programs around England. They used to be in Leeds, now it's in Harrogate.
And it just has this wonderful spirit. It invites creators who are up and coming. And I'm so happy to see the convention have expanded. I was there when it was in Leeds and now it's about three times that size. And so it has a really special place in my heart. It was the first convention I went to that was a different animal altogether. It wasn't about promotion or selling things or fans coming up to monetize things, which again, is no issue. I'm happy to always see fans coming by even if they're looking to flip books or any of that. I've never had an issue with that. But there's a relief in just being there to connect with people and creators.
And anyway, it was held up in Harrogate. We stayed in this hotel that looked like the Overlook from The Shining. And the best part was I brought my son! I brought my 15 year-old son Jack. We announced recently that we're doing a book together called By a Thread with Comixology.
It imagines this infection spreads across Earth. It's very mysterious, but when you walk across it, you die. Essentially, it sucks the moisture from anything and no one knows if it's alien, if it was some kind of weapon, or what it was. But now it's covered the majority of the earth and people live in these communities called Needles. The book focuses on a bunch of young people who start to believe that there might be some refuge from all of this somewhere out there. And it's drawn and co-created by the amazing Valeria Favoccia. I hope you'll go check out their work. And they were there, and so to get to meet them in person after these months and months and months, of almost the better part of a year of working together, was such a pleasure. And they and my son got along great and we all went out to breakfast.
And I also got to see Jock, who was just back from a drumming gig with his kid.
His oldest son, Aubrey, is in a band called Hearing Aid Beige (which you should totally check out). Another band, also, called Roll Doll, and they invited Jock to play drums with them on tour in Mexico. So he was just back from that.
I got to see Rafael Albuquerque, who I haven't seen in person in a while.
We got to talk about our new book, Duck and Cover which is coming out from Comixology.
It imagines that a nuclear exchange happens between Russia and the United States in 1955 and it's about kids hiding under their desks and miraculously surviving from that war and trying to figure out what to make of all of it.
So it was just one of those conventions where the energy was palpable. We had a party where all fans and creators were invited at the hotel where we were all staying, and Tula Lotay DJ'd.
And when 90s Hip Hop came on, I had to dance. The look on my son's face—first horror and then complete glee as he raised his phone and videoed me and threatened to send that footage everywhere, but I don't care. It was so great. I actually was having so much fun that when I toasted with Jock and brought the glass to my mouth, I chipped out part of my tooth and still kept dancing and had a blast. It was just one of the best times, so if you ever get a chance to go to Thought Bubble, go.
I also got to do some fun touristy stuff with Jack. We went to Big Ben, we went to The London Dungeon and Westminster Abbey and all of that stuff, which was great.
And so yeah, it was one of those trips that I just so glad I took, even though it was a lot driving. I rented a car and drove around England with him, not very good at that yet. And it's stressful and all of it, but getting to share this community and share the work and work together with my son and be around people you really love and care about, there's some conventions and some moments and in this whole industry where you feel it. You feel it like you're at a wedding or something. It's one of those gatherings that you don't get to do very often in life, especially as you get older. You don't get to do it as much as when you're younger. But you're surrounded by people you care about and you want to put your arms around all of them and we just feel like, I'm so grateful that this is who I'm traveling on this journey with, who I'm kind of on this big rock going around the sun with. And I'm glad I was there, it was a great feeling.
And then we came back, and that night we all were happy that everything had gone well and I was so proud of Jack. And then, not to throw him under a bus, but he accidentally left the sink on in our upstairs bathroom when he went to sleep. It was my fault more than his, I had kept him up late every night. And I'm sure he was super jetlagged. But the water went through three floors of our house, all the way down to the basement. And so the last four days have been kind of hellish in the house where I woke up to my wife's blood-curdling scream from downstairs and came down and it was like a waterfall coming through the lights.
And so we had to have a mitigation team come and put these humongous industrial Lex Luthor-like fans all over the house and a huge dehumidifier that looks like some kind of apocalyptic cybernetic nightmare in our house with machines everywhere, with tubes and hoses and things in the walls. And so it's also deafeningly loud, which Quinn finds both horrifying and hilarious at every turn. So the last few days have been a mess, o I apologize for everybody whose stuff I collected at Thought Bubble and I intend on taking a look at from all you up-and-comers who handed me books. I'm sorry for anyone I was supposed to get back to, it's been just triage mode over here. But the fans, I think, go out today. It seems like we somehow managed to escape with little but cosmetic damage to the house, and we're in decent shape.
So the other thing I wanted to mention was that I'm going down to Florida in a couple of weeks to go sign all of your stuff if you're in the Black Jackett Club. There are people that sent statues and sent oddly shaped things that we couldn't mail to my house. And it was just too much stuff to be honest. So I'm going down there, I'm going for a weekend, and I'm gonna sign all your stuff and then you'll get it back in December. And we also are going to do the one-on-ones. So Tyler is going to post a thing here (emails are going out to Founders tier members next week with a StreamYard link!), we'll be doing a hour and a half at a time. They're five-minute meetups where you and me just talk one-on-one, anything you want, craft or questions about the industry, whatever. He has the date here: November 28th from 10:30am to 12:00pm EST.
And also we have a lot of submissions, but still, please submit your work! We're going to do our class on December 15th at 9:30pm EST. Tyler and I are figuring it out, but by the time he post this, it'll be here. So a few weeks away. It'll be our second edition, and then we'll post the syllabus that says every date that we're going to have a class for 102. We got a huge amount of signups. I'm really excited. The class expanded by a lot, which means the world and I can't wait to get back to it. And that's really it. I just wanted to touch base. I'll do a post that's a little bit more in-depth about some things later.
I really hope Twitter survives. I'm sad to see it go if it does. I'm too old to migrate to Mastodon. I tried, I have a thing there, and I already screwed it up and my screen name is the wrong thing twice and I'm, like, just on a black screen. And all I posted was "hello!" and it looks really sad. So I don't think I can do it, but here's hoping it works out. And this has been a wonderful alternative and a place that I think of more as my home base the last couple of years. So if you're over there and you follow this casually, I hope you'll come over here more thoroughly because this is where I'm going to start to really use more and more and more if Twitter begins to disintegrate. But anyway, hope you all are doing great. I'll make a post in just a few days. I won't wait till Friday. But yeah, great times overseas, and again, thank you guys for everything, all the support you showed me and my son with the convention and the announcement and all of it. It's just, again, best fans always!
S