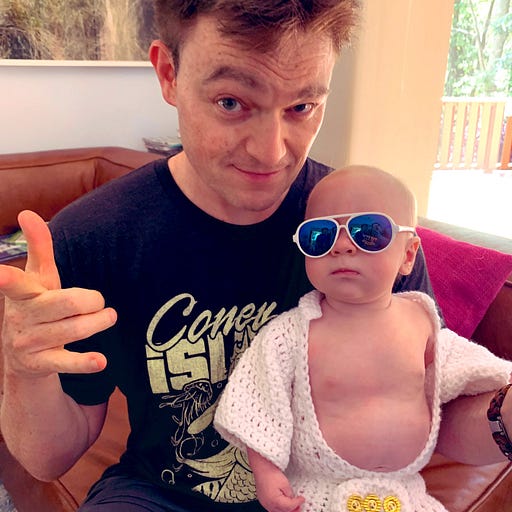 Aug 17 • 9M
Newsletter #91: Long Live the King!
Going over this week's big Best Jackett releases AND my chance to talk Elvis
Anything and everything BJP, from new projects to exclusive deals and merchandise, variants, classes, ALL of it
Hey guys, it's Scott.
It's Tuesday, August 17, the day after the 45th anniversary of the supposed passing of Elvis Presley, which I celebrate.
I used to go to Elvis Week all the time, I can talk about that in a second for no reason other than my own enjoyment. But before I do, I just wanted to say we have two books I'm really proud of out today, the first—Dark Spaces: Wildfire #2 from IDW.
It's me and Hayden Sherman co-creating, Ronda Pattinson on colors, Deron Bennett, longtime friend, on letters. And it's the second of five issues. This is a super claustrophobic, intense heist story I'm really, really proud to be a part of. I hope you'll check it out. The first issue sold out, so don't sleep on this one!
And Undiscovered Country #20 comes out.
This is my favorite arc, I hope you'll take a look. It really ramps things up. This is a book where we knew what we were doing when we started, but then so much of the world change. We came up with it back in 2018, and then as we started working on it, we began in 2019, everything changed with the pandemic and the political and social turmoil. A lot of the things that were in the book as core elements became much more tangible and real in the world, so it took us a while, I think, as proud as I am of the last few arcs, to decide how we wanted to reorganize the stories that ended pretty much the way we had planned but in a more resonant way, and took us to a couple more cool places. So this is the beginning of that, and I'm really, really excited to see what you guys think.
So those two books are out. Big reminder, if you're a paid subscriber—class is next week, not this week. I'm taking my kids to Pennsylvania because they want to get out for the last week before school. And also, we've had a big influx of new subscribers, which is fantastic. Tyler's working on an awesome trailer to get even more people in. And I won't harp on it too much, but if you're a free subscriber and you have any interest in our class, or the FastPass situation where you can come meet me at any con I am at and get to skip the line, or sending your books in twice a year for me to sign for no cost other than shipping, now is the best time in the world to sign up.
Again, this is when the algorithm for Substack is switched. Everything is between you and me. The money that we get from subscriptions sustains the actual process, there's no more grant. So if you've ever wanted to give it a shot, give it a shot. Right now we have a big discount on annual subscriptions. It's the same as when we first opened the doors to the whole thing, it's like $75, I think, for the whole year. So give it a shot, sign up, have fun with us. And yeah, let's rock out with it!
But I want to give people a chance to just settle in before we do class next week. Next week will be Endings. And what I want you to do, if you can, is think about a couple of the lessons we've done so far. If you want to go revisit them, the archive is there for you. Ty, you can put the link in:
If you're a paid subscriber, you have access to all the classes we've done so far, all eleven of them, and discussions with everybody from Greg Capullo to James Tynion IV and so on.
But Endings—the best quote I ever heard about endings was that they should feel both surprising and inevitable all at once. And I think the surprise comes from the plot element, at least, the beat right before the resolution. But essentially the ending itself comes from the climax to the end, which is what I consider the ending, the final twist, or the big revelation and the big fight. The final battle to the end, to me, is the ending. So think about the plot vs emotional arc class we did in particular. Plot is where the ending is surprising. Emotion is where it winds up feeling inevitable, essentially.
So we'll be looking at those two strains in a couple of stories. I'll use my work, I think again, because asking people to read to the end of something is a lot. If you want to take a look at Court of Owls, that's when we've looked at before. It's easy. I'll talk to you a little bit about American Vampire, I can talk to you a little bit about some of the books we've finished already like Night of the Ghoul or Clear or whatever you want. Tell me which ones. But another thing, we can also talk movies, we'll talk things that you guys have been exposed to. But essentially, it'll be a really craft-oriented class. So I think it'll be a lot of fun. Really excited about it. It'll just be me, no guests. So hop on a week from today and let's do it!
And for no reason—My spirit animal, Elvis Presley. I want to just kind of explain to you, for both as a writer, why I think it's great to have inspirations outside your field and also, I don't know, just because I think it's great to just talk personally once in a while and get outside of the whole matrix of buy this, buy that, subscribe to this and also all that stuff.
Alright, so how did I fall in love with Elvis? Well, when I was in high school, I went to school in New York City and I went to a very preppy, upper crest high school in New York City. Socially, I didn't feel like I fit in. I wasn't interested in a lot of the stuff happening there. And so academically I loved it, but my whole thing was that I wanted to find something at that time that I liked that nobody else could possibly like. And I was, like, who in New York City, in this kind of environment, would like Elvis and that stuff? Nobody. So first I kind of got into it just to be rebellious. And I was like, alright, whatever. And then I picked up The Sun Sessions and it was this kid who was a teenager, like my age, with acne, who had no money, going to school dressed already like a rockstar, playing music nobody listened to, breaking all the rules, and having the confidence, even though he was insecure, but the confidence of somebody who had already kind of become who you want it to be. And that appealed to me deeply.
And so did the music. I mean, The Sun Sessions is just out of control—a great fusion of country and rhythm & blues and gospel and all these things at once. And so that and Johnny Cash and Muddy Waters and all those guys, like, I just fell in love with, and so there was a purity to that. And then as I got older, I realized there was an Elvis for every—it's a whole culture back then. Now it's all sanitized. It's kind of like Disney, where Elvis Presley Enterprises exists and they changed it all. But back then you could go to Graceland and it was, like, all these weirdo vendors who sold Velvet Elvises and Elvis is an Alien. And I would go to all the impersonator conventions there.
I'd go to Elvis Week and they'd have these impersonator conventions with Elvis Herselvis, who was amazing, and El Vez, and Robert Washington (one of the great African American Elvis impersonators), and it was people from around the world and it was just a total zoo and party and circus of crazy fandom.
And over the years, in the early 2000s, they created Elvis Presley Enterprises, and that came in and kind of sanitized it, bought off all the stores so that nothing could sell unlicensed stuff that was, like, Elvis is Alive, Elvis is Bigfoot. None of that exists anymore and now it's all licensed and much more boring. But the point is, over the years, for me, having a figure who was like a spirit animal, or something that you're looking at for confidence and inspiration, and to make you brave in a way and be, like, I love that this person could create this thing or be this way when the odds were ridiculously against them. For me, it gave me that it gives me that still. And I love that idea that there's always a version of that person or that for where I am. There's, like, the crazy, fun, early 70s, wild, gun-toting Elvis, there's the 60s Hawaii Elvis, whatever it is. I have two tattoos. I have a young Elvis on one shoulder, mature Elvis on the other that I got later.
But I would just say find people in pop culture and literary culture and comic culture that you can draw strength from. For me, this is mine, and my fandom helped me through a lot of weird times. And again, especially back in the day when you could find people that loved what you loved for all kinds of crazy reasons, whether it was impersonators who were in their fifties and just sort of overweight and connected because Elvis was not unlike them at the end and you could wear a jumpsuit and get on stage, or people that connected on a completely strange cosmic level where they believed he was the second alien or first alien embodiment of whatever. It was fun. It was fun to be a part of.
So anyway, go find your own spirit animal (or you can take mine, too). But having something that you love and can immerse yourself in for inspiration and for strength at times is great. And yeah, I would say go check out Back in Memphis:
Check out The Sun Sessions:
That's the Way It Is, also a great album:
'68 Comeback Special:
Those are some of the touchstones, anyway. All right, take care you guys, and thanks!
S