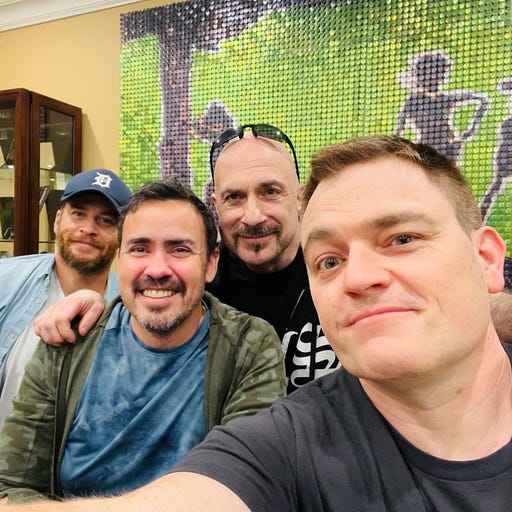 Dec 14, 2021 • 5M
Newsletter #41: ANNOUNCEMENT: Get Your Books Signed w/ Subscription
Plus, some bonus news on Comic Writing 101, We Have Demons, and more!
Anything and everything BJP, from new projects to exclusive deals and merchandise, variants, classes, ALL of it
[Disclaimer: The transcript is from a previous recording where the audio was corrupted, so the gist of it is the same, but the new audio is worded a bit differently. Please forward all complaints to me, Scott, who doesn't want to get my assistant Tyler in any trouble…]
Hey guys, it's Scott.
I just want to remind everyone that we're pushing the class on 3-act structure to next Wednesday the 22nd at our usual time and place We were gonna do it this week, but plans had to be moved around because of this CGC signing I'm doing in Florida. I'm having a ton of fun here with brothers Greg, Tony Daniel, Charles Soule, and Clay Mann, but I promise that next week's gonna be a real back-to-basics, nitty gritty class with me going through three-act structures in comics and movies.
If you want to get a headstart on the material we're going over in class, give American Vampire Vol. 1 and the Death Race story arc a read. All students are gonna get access to PDFs of those later this week. And in terms of movies, check out Reservoir Dogs, The Matrix, and Spider-Man: Homecoming. As always, none of these are mandatory to watch or read, and I'll go over all of them in class so you're not missing out on anything.
But also, this year has been without a doubt one of the biggest of my whole professional career, and I've got all of you to thank for it. Running this newsletter and the class has been so amazing so far, and I can't wait for all the things we've got planned for 2022! One of those new additions on the newsletter front is something I'm announcing right now: a comic signing program for paid subscribers. Doing the signing this week really enforced the fact that I wouldn't be here if it wasn't for all of you—and since it doesn't look like I'll be going to whole lot of conventions in the near future, I want to make sure there's still a way for fans to get books signed. In the next few weeks I'll be announcing the full details of how you as a subscriber can get signed books through Substack.
I also wanted to celebrate the season of giving with a special offer for free or monthly subscribers. If you upgrade to an annual plan at any point from now until the end of the year, you'll get a whole year of Our Best Jackett content at a 10% discounted rate on top of the discount for going annual. That's a full year's worth of access to the full archive of paid posts and classes, Q&A sessions, the Discord server, and this coming signing program, all for $67.50/year (which comes out to $5.62/month).
If you know anyone that's thinking about signing up, you can also give them the URL bestjackettpress.substack.com/ourbestoffer so they can claim that as well! And again, I can't thank you enough for the support you've shown Best Jackett so far. It's been a great year, and I think that 2022's gonna be even better. Alright, see you soon!
S
P.S. IGN just broke the big announcement today that We Have Demons is gonna be hitting the direct market through Dark Horse starting March 23rd! That'll be a monthly release, so #2 in April, #3 in May, and then the full trade is coming out on August 9th. I've already seen what the first print issue looks like and I'm super happy with it. So, yeah, really excited for those—bonus material in each issue, there's variants from awesome artists in the BJP family like Jock (Book of Evil), Francesco Francavilla (Night of the Ghoul), and Francis Manapul (Clear). There's a few more surprises we've got in the works, but I'll hold off on those for now :)